This is my FAVORITE recipe of all time. After a lot of testing, I've figured out my favorite ratios. I make this every time I have guests and they always beg to eat it again and again. And who knew, it is a clean and healthy dessert, too!
The best part: it's super simple to make, totally gluten-free, uses coconut sugar and honey for natural sweetness and can be made with all different varieties of fruits, depending on the season. I made this one with apples and pears (since those are in season now). Come Springtime, I'd make this with fresh blackberries or strawberries. And in the summer, try it out with some juicy peaches and nectarines!⁠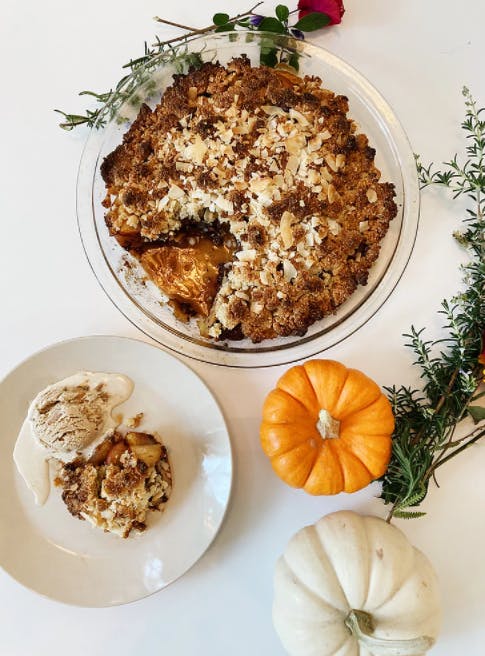 Ingredients:
3 apples or pears
1 oz coconut sugar
1/4 cup honey
2 oz dark chocolate
2 cups almond flour 
1/2 cup coconut oil
1 teaspoon vanilla extract
1/4 cup shaved coconut
1 teaspoon fine sea salt or kosher salt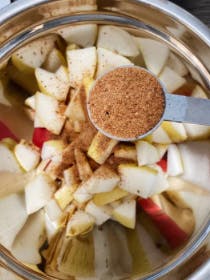 Instructions:
1. Preheat the oven to 375 degrees F.
2. Slice apples into bite-sized pieces. Toss with coconut sugar and ½ tsp salt in a medium mixing bowl.
3. In a large mixing bowl, combine almond flour, coconut oil, honey, vanilla extract and 1/2 tsp salt with your hands until mixture is no longer clumpy and everything combines well to make a crumble. Add almond flour if very goopy and not holding firmly together like a crumble.
4. Pour fruit into a small casserole dish and spread out across the dish. Sprinkle chocolate on top of the fruit. Sprinkle crumble on top.
5. Bake in the oven for about 25-30 minutes, until pears are starting to roast, chocolate is not burning and crumble is just starting to brown but not burn.
6.Remove from the oven and sprinkle coconut shavings on top. Bake for another 5 minutes, until coconut is starting to brown. Remove from the oven and serve hot or cold, preferably with ice cream! 
Chef's Note:
Replace apples with peaches, berries, or whatever is in season! Make sure not to let crumble burn – almonds burn easily.