Fresh herbs are a perfect addition to any meal – and they always make the meal better. Anything you're cooking in the kitchen – be it a stew, salad, omelet, or even a dessert – there is an herb for it. The chosen herb will make any dish more beautiful and far more delicious. But often I hear from people that they don't know how to work with fresh herbs. They can be intense with flavor, and therefore confusing and daunting. Today I want to demystify cooking with herbs and offer you a few helpful tips. Join me in the garden (or fresh produce aisle at the grocery store!). I will be teaching a class about working with fresh herbs on Tuesday, July 26th in our Tiny Kitchen Cooking club – join me to learn more!
So you've gone to the store or harvested some fresh herbs from your garden. Let's begin by discussing the storage of these gems:
How to store fresh herbs:
The best way to store herbs is a debated topic. When the herbs are on a stem, I like to put them into a glass of water just like I would with freshly cut flowers and let them sit on my countertop. It is important to change the water every few days to keep them fresh. They last about a week this way and make your kitchen beautiful and smell fresh.
When I was catering large events, we would wrap the herbs in wet paper towels and then carefully place them in a sealed container in the refrigerator. They sometimes last up to two or even three weeks this way!
Now it's time to get cooking. Should you chop the herbs or keep them whole?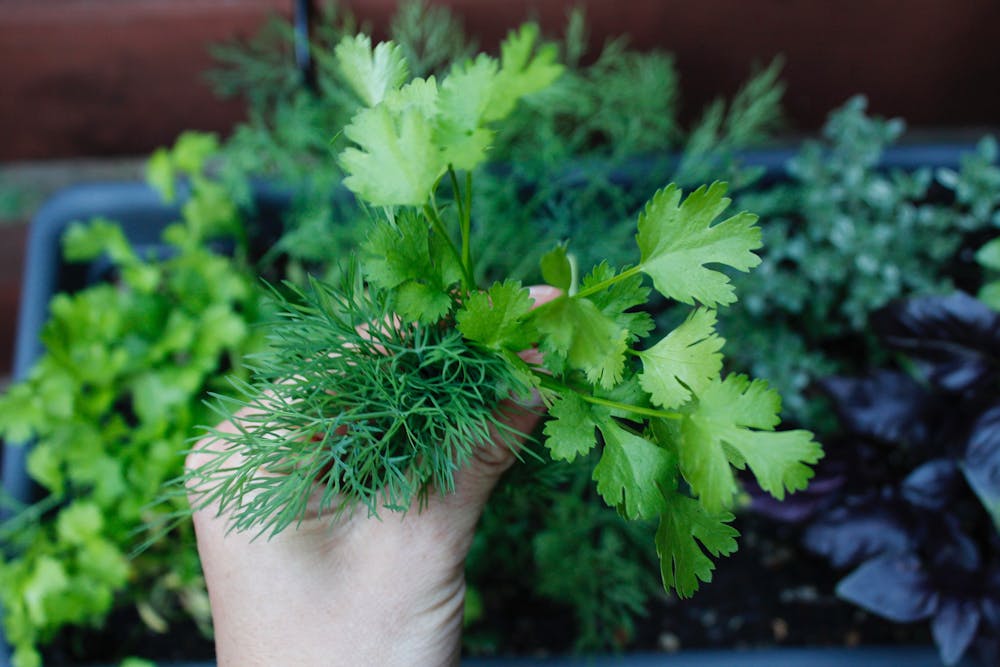 Using herbs when cooking:
Almost any herb is great when chopped finely. The flavors go a long way (they are small but potent) and can be scattered throughout any dish.
More robust herbs, such as rosemary, thyme, oregano, sage, and bay leaves are fantastic when cooked into soups, stews, pasta dishes, sauces, and more. They can handle a lot of heat and keep their delicious flavor for a long time.
More delicate herbs, such as cilantro, parsley, basil, tarragon, marjoram, mint, chives, chamomile, and lavender are best when fresh. Add them to whatever you are cooking towards the end of the cooking process, or fresh on top. They can also be protected through the cooking process by mixing them into a marinade with oil and vinegar, which helps preserve their flavor and delicacy.
How to use herbs in recipes:
Most commonly used herbs in my kitchen:
Basil – pesto, garnish on anything
Parsley – stews, on fish, garnish on anything
Cilantro – Mexican or other international dishes, garnish. Also, any food that is green tends to go well with cilantro.
Other delicious herbs I try to use often:
Mint – tea, smoothies, fruits, pies, cocktails, garnish
Sage – used in sweet foods (often orange), such as butternut squash!
Dill – salads, meat & fish marinades, garnish
Thyme – meats, soups, stews, eggs, pasta dishes, warmer foods
Oregano – potatoes, sauces, pasta, warmer foods (best if cooked, in my opinion)
Rosemary – oil, butter, yogurt, meat, and veggie marinades
Tarragon – acidic flavors like lemon and vinegar, salad dressings, fish marinades
Bay Leaves – stews, soups, curries, marinades, pasta sauces (must be cooked)
Chives – savory dishes, eggs, soups, stews, garnish
Herbs you may have never thought to use when cooking:
Pineapple sage – tea, pesto made with pecans, summer fruit salads, cakes, smoothies, garnish
Lemongrass – chicken, seafood, Thai flavors, lime flavors
Lemon Verbena – tea, cocktails, fruit tarts, liquors, ice cream, garnish
Chamomile – use flowers in salads and garnishes, steep into rice, tea poached pears, garnish
Peppermint – tea, smoothies, fruits, pies, cocktails, chocolate, garnish
Chervil – omelets, eggs, soups, garnishes, potatoes, garnish
Winter Savory – meat rubs, herbs de Provence flavors, add to vinegar for dressings
Marjoram – with cheese, stews, braises, tomatoes, zucchini, meats, garnish
Lavender – pair with honey, vanilla, cookie dough, cake batter, ice cream, garnish
Aloe Vera – smoothies, soothing water, tea, cocktails
Bergamot – jams, marmalades, custards, cookies, desserts
Stevia – sweeten things as a sugar replacement
Note: Not everything is a garnish! Some are too strong. You want to use the softer herbs as a garnish. Best herbs for garnish: basil, cilantro, parsley, dill, sage (lightly), rosemary (lightly), tarragon, chives, lavender flower, and chamomile flower.
I hope you are now able to cook confidently with herbs this summer! Be sure to reach out if you have any questions or would like to share a photo of your dish topped with your favorite herbs!
Be sure to learn more on July 26th by joining me in our Tiny Kitchen Cooking Club Herbs class! Also – learn more by watching my recent appearance on KATU Afternoon Live News in Portland, Oregon!
See you in the garden,
Anja