Scroll to the bottom for the complete recipe!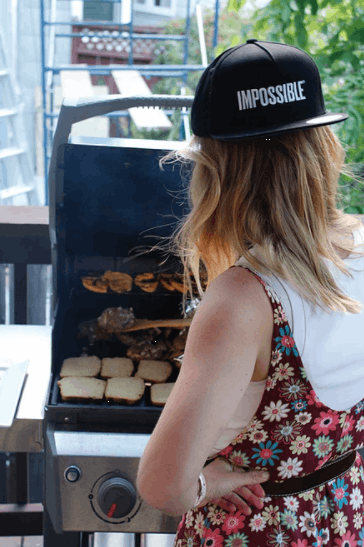 Burgers are the ultimate comfort food. My dream burger is stuffed, to the max of with flavor and has a nice kick, seasoned with SPOOG (salt, pepper, olive oil, garlic), and topped with fresh, crispy grilled veggies. Even better with a side of roasted potatoes! Did you happen to guess that my choice of the ultimate burger is made of 100% plants? Eating a plant-based diet is one of the fastest-growing food trends worldwide. The number of people moving toward a plant-based diet has been steadily increasing over the last several years.
What is a Plant-Based Diet?
Simply put, a plant-based diet focuses on vegetables, fruits, nuts, seeds, legumes, and whole grains. These foods make up most of your plate and, in turn, the bulk of your diet. But no need to cut out meat altogether. Animal products can be a part of a plant-based lifestyle, but they are just a supporting role.
Eating plant-based is flexible and allows you to make the meal work for you. Don't try to place restrictions on yourself and label animal products "off-limits". Instead, focus on the abundance and variety of fresh, colorful whole foods and learn to tune in to how foods make you feel and choose to include or exclude what makes sense for you.
How Do I Benefit from a Plant-Based Diet?
There are so many incredible health benefits of eating a plant-based diet and its positive impact on our environment.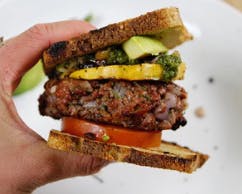 Weight Loss. Plant foods have fewer calories than animal products and processed foods. By eating a whole-food, plant-based diet, you consume more nutrient-dense foods, low in calories, and rich in flavors. Clearer Skin. Eating a plant-based diet results in brighter, healthier-looking skin due to the abundance of nutrients, vitamins, and minerals inherent in fresh vegetables and fruits
Disease Prevention and Management. Plants are high in fiber and antioxidants. They help lower blood pressure, reduce inflammation, and improve digestion. All the qualities that can lower your risk of heart disease and diabetes and reduce the symptoms of other health conditions.
Good for the planet. Eating a plant-based diet actually changes the impact of food production. The production of meat and dairy has been proven to significantly contribute to climate change. Plant production uses 96% less land, 87% less water, and 89% fewer greenhouse gas emissions than farming. All in all, removing meat and dairy from your diet helps fight climate change more than any other means.

We're not against meat. We do love it. But we do believe that eating less meat and more plants can improve your overall health and well-being. Several food companies are now joining the plant-based food revolution by coming up with a variety of alternative meat products.
We've come a long way from the frozen black bean burger. Plant-based companies are focused on making a variety of alternative beef, sausage, and fish products. From a flavor standpoint, it's been a significant breakthrough. Imagine plants with the savory taste of meat, plus all the added benefits: equal iron and protein levels with no cholesterol, and fewer grams of fat per serving than beef. And how? The burger has soy leghemoglobin which was found in the root nodules of soy plants and that are manufactured at scale through fermentation similar to how Belgian beer is made. This creates many of these added benefits. As an added bonus, it contains no animal hormones or antibiotics. This is a super significant point to keep in mind! Animal hormones can affect the risk of certain cancers. While antibiotics kill bad bacteria found in animals to fight disease, they also destroy the good bacteria in our body.
All the more reason to make the switch and give plant-based foods a try!
Here's one fun recipe (plus more to come!) that is an easy plant-based meat replacement, with a summer fruit twist! Perfect for a summer BBQ when nothing sounds better than a burger.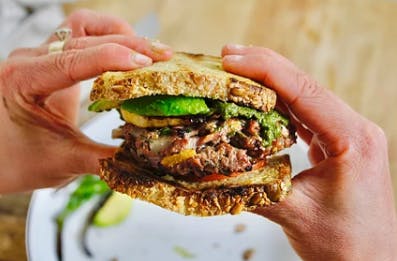 Impossible Peach Burger with Grilled Butternut & Vegan Pesto
Dietary notes: Vegan, Gluten-Free, Dairy-Free, Nut-free
Prep time: 20 minutes
Cook time: 20 minutes (butternut squash) 5 minutes (burger)
Ingredients:
Burger Patties:
• 1 lb Impossible burger meat
• ½ red onion, diced (see photos for the best way to dice an onion)
• 1 small peach, diced
• ¼ cup fresh herbs, such as dill, cilantro, parsley
• ½ tsp sea salt (SPOOG)
• ½ tsp ground black pepper (SPOOG)
• ½ tsp granulated garlic (SPOOG)
• 1 Tbsp olive oil (SPOOG)
• ¼ tsp cayenne
Butternut Squash:
• 1 small butternut squash, seeds removed and sliced into thin rounds
• 2 Tbsp olive oil
• SPOOG to taste
Vegan Pesto (pulse all below ingredients in food processor or blender until smooth): 
• 1 cup tightly packed fresh basil
• 1/4 cup pine nuts
• 2 large cloves garlic
• 2 oz. / 1/4 cup EVOO
• Sea salt & freshly ground pepper, to taste
• Juice from 1/2 lemon
• 3 T nutritional yeast 
Burger Stuffings:
• 8 slices @Grindstonebakery gluten-free bread (or some other burger bun/bread)
• ½ Roma tomato, thinly sliced
• ½ avocado, thinly sliced
• 2 Tbsp Dijon mustard
• Butternut squash slices (above) → Great cheese replacement! 
• Vegan pesto (above)

Preparation

Preheat grill on medium-high to 500 degrees, or oven to 425 degrees F.
In a large bowl, combine all burger patty ingredients well with hands. Form into 4 patties of equal thickness.
Toss butternut squash with SPOOG.
If grilling: Turn heat to medium. Cook about 8-10 minutes until dark grill marks are shown. Flip and cook another 5-10 minutes. Reserve under foil.
If baking: Lie butternut flat on a parchment-lined baking sheet. Roast until golden brown and soft, about 20-30 minutes.
Prep burger stuffings. Grill or toast bread slices for 5 minutes until brown on the outside and soft on the inside.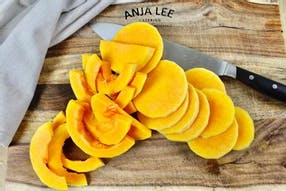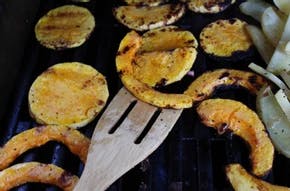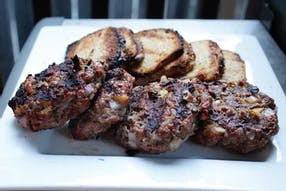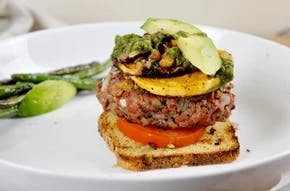 Stack burgers! Bread slathered with dijon + burger patty + tomato + butternut squash + avocado + pesto + bread slathered with dijon.
Eat hot with roasted potatoes & fresh salad on the side!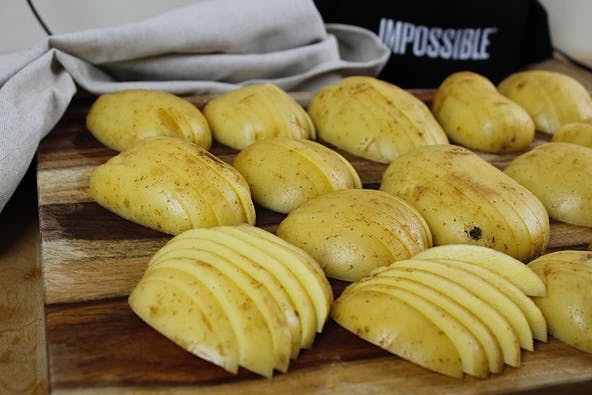 You may be asking yourself if a plant-based lifestyle is right for you. You can start with Meatless Mondays, or dedicate one meal a day to making your favorite plant-based snack or spread. Make this journey about eating in a way that makes you feel your best. By simply increasing the number of vegetables, fruits, and whole grains, and reducing the number of processed foods, refined sugars, and oils, you're already taking positive steps towards better health and a sustainable lifestyle. Let's do it together!
Let me know how these turn out! Make sure to tag @anjaleecatering on Instagram, Facebook and Pinterest!