It's chilly outside and giving me that wonderful feeling that Thanksgiving is coming soon! ⁠These super cute mini pumpkin pies are gluten and dairy-free, sweetened with honey and maple syrup, easy to make, and super delicious!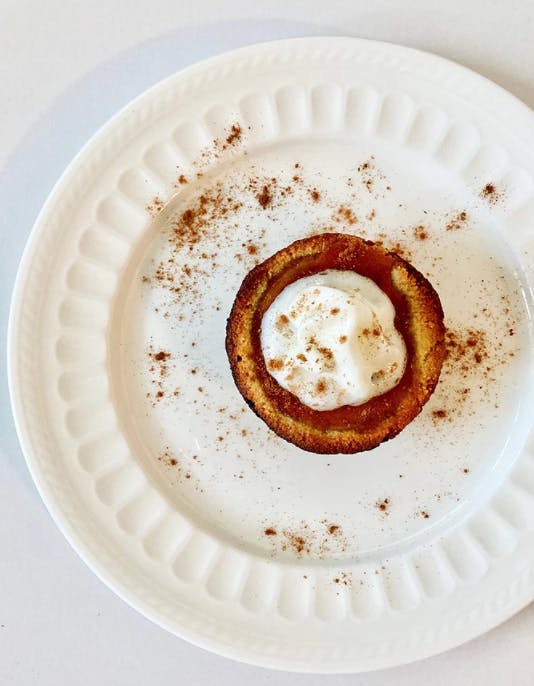 Yield: 10 mini pies
Ingredients:
•1 cup pumpkin purée (8oz)
•1 large egg
•1 egg yolk
•1/4 cup maple syrup
•2 tablespoons almond milk 
•1 teaspoon vanilla extract
•2 teaspoons pumpkin pie spice, OR use the following 4 spices:
•1 teaspoon cinnamon
•1/4 teaspoon nutmeg
•1/4 teaspoon ground ginger
•1/4 teaspoon allspice
Crust:
•1/4 cup honey
•2 1/4 cups almond flour
•1/2 cup coconut oil, melted
•1 teaspoon vanilla extract
•1 egg
•1/2 teaspoon salt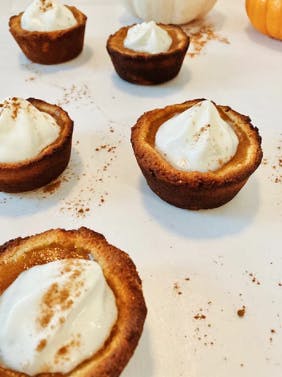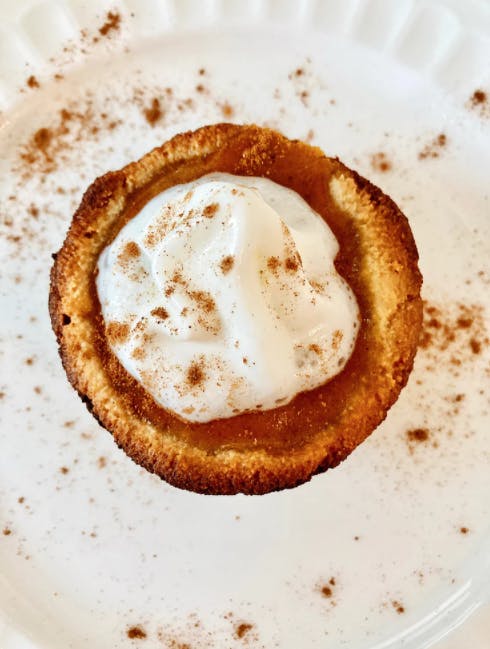 Instructions:
•Preheat the oven to 325 degrees F.
•Make the pumpkin pie filling: In a large bowl, whisk together the pumpkin purée, egg, egg yolk, pure maple syrup, almond milk, vanilla extract, species until smooth and well combined. Set aside in the refrigerator.
•Line a 12 cup muffin tin with 9 muffin liners. OR, rub oil/butter around all sides of the muffin tins to make sure the crust comes out after baking.
•In a large bowl, mix together the coconut oil, honey, vanilla extract and egg. Add in almond flour and salt and mix well (with your hands or with a spoon).
•Use your hands to roll out 9 mini balls of dough, about the size of a golf ball. Place each dough ball into a muffin tin and use your hands or a spoon to press the dough into a pie crust form, pressing it up about 3/4 of the way up the muffin tin. Make sure there aren't any holes in the bottom or sides. Bake for 2 minutes.
•Next, add the pumpkin pie filling to the cookie cups. Each cup will get about 1.5-2 tablespoons of filling smooth the filling out with the back of a spoon, or by shaking the pan back and forth lightly to get it to settle.
•Bake for 20-30 minutes or until filling no longer jiggles. Allow mini pumpkin pies to cool completely in the muffin tin before removing from the tin (or else they may break!). To remove them, gently run a butter knife around the edges of the crust and then pull them out gently using the muffin tin liners.
•Serve immediately or cover and refrigerate until ready to serve