It's finally starting to feel like Fall here in Northern California! With the cooler temperatures, I'm craving big, cozy sweaters and a nourishing and warming soup. Look no further – this simple and delicious Thai-inspired soup is the perfect antidote to those chilly Fall nights!

Recipe:
Serves 4 people / Active Time: 45 minutes
Gluten-free, Dairy-Free, Vegetarian, Nut-Free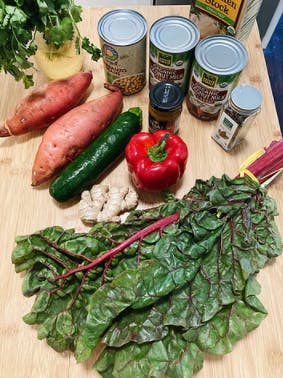 Ingredients:
1 tablespoon coconut oil
2 teaspoon fresh ginger, minced
2 tablespoons green curry paste
2 large sweet potatoes, sliced into cubes
2 cans (27 oz.) full fat coconut milk
3 cups low-sodium vegetable broth
2 bay leaves
1 large bell pepper, any color
1 large zucchini
1 can chickpeas
1 bunch Swiss chard, de-stemmed and cut into pieces
1 bunch cilantro, chopped
1 lime, sliced in half
Sea salt and freshly ground black pepper to taste
Instructions:
1. Preheat a large pot or dutch oven on medium-high heat. When hot, add coconut oil and allow it to melt, about 10 seconds. Add ginger and green curry paste. Sauté for one minute to activate the flavors.
2. Stir in the sweet potato. Reduce heat to medium and let cook 4-5 minutes, stirring occasionally, to start to activate the cooking process. Pour in the coconut milk, vegetable broth and bay leaves; stir into vegetables, making sure no vegetables are stuck to the bottom of the pan. Turn up the heat to high and bring the liquid to a boil. Reduce heat to a high simmer and let sweet potatoes cook for about 10 minutes.
3. Meanwhile, slice bell pepper into 1" squares. Slice zucchini into half circles. Roughly chop cilantro.
4. After 10 minutes, sweet potatoes should start softening but still be firm. Taste broth and add sea salt and pepper to taste, as well as ½ lime juice.
5. Stir in bell pepper, zucchini and chickpeas. Cook for another 10 minutes to soften the vegetables and make the sweet potatoes extra soft and tender. 6. After 10 minutes, add in chopped Swiss chard and ¾ of the chopped cilantro, saving a little cilantro for garnish. Stir often, as the Swiss chard and cilantro wilts, mixing it all together. Once it is all mixed in, taste the soup one more time. Adjust with sea salt, black pepper, and more lime juice if needed. 7. Serve hot with remaining fresh cilantro on top. Slice the second half of the lime into fourths for garnish. Pairs well with rice or can be enjoyed on it's own!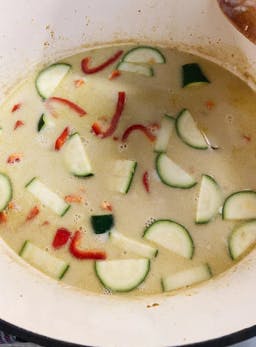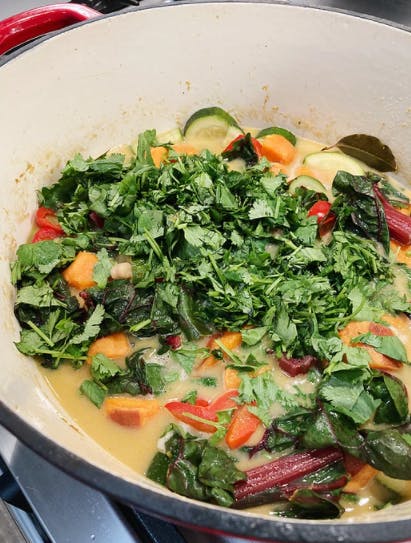 Note:
All sorts of other delicious vegetables can be added to this dish, including mushrooms, pumpkin, and many kinds of peppers. You can also add in sliced chicken. Play around with different combinations of this recipe and figure out what you like best.