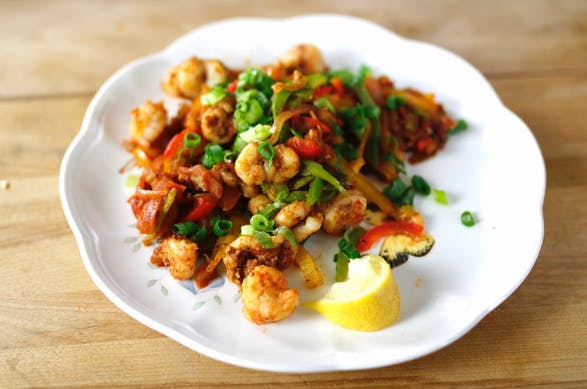 Derived from my recent cooking class with Cisco, and recipe submitted by Kumar Chandrashekaran from Apex, North Carolina, USA
Ingredients:
• 16 oz shrimp, butterflied
• 1 tsp Cajun seasoning (or Garam Masala, for a twist!)
• 1 lemon, cut half
• ¼ C finely diced red onion
• ½ C chopped celery
• 1 Tbsp chopped garlic
• 2 C chopped green, red and yellow bell peppers
• ¼ C sliced red onion
• 1 C sliced green, red and yellow bell peppers (used at the end)
• ½ tsp cayenne pepper
• 2 bay leaves
• ¼ cup chopped parsley
• 2 Roma tomatoes, diced
• 1 can strained tomatoes with chilis
• Dash liquid aminos, or soy sauce
• Dash Sriracha or other hot sauce sauce
• 6 Tbsp olive oil
• Sea salt and freshly ground pepper, to taste
• 2 green onions/scallions, diced for garnish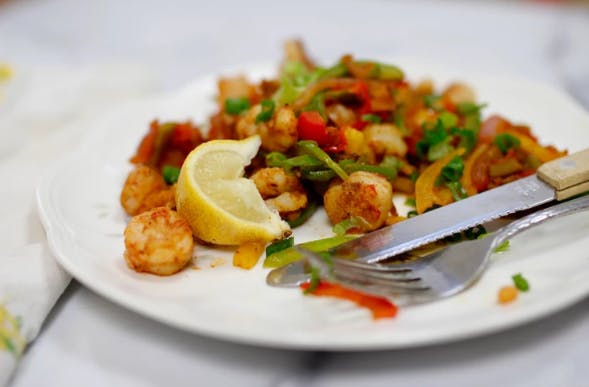 Directions:
1. Prep the shrimp: Peel and devein shrimp. Butterfly the shrimp. Toss with juice of ½ lemon and cajun seasoning. Let marinate for 30 minutes.
2. Preheat a large pan on medium-high heat for 30-60 seconds or until hot. Drizzle in 1-2 tablespoons olive oil and add the "holy trinity": diced onion, celery and bell pepper. Reserve some sliced onion and bell pepper for the end. Let cook 2-3 minutes. Add a dash of salt and pepper.
3. Add diced tomatoes, cayenne and garlic to the pan, stir and cook another 1-2 minutes.
4. Add the can of strained tomatoes, liquid aminos, sriracha and bay leaves. Turn heat to a simmer and let cook for 10 minutes to allow flavors to come together. If the sauce starts to get dry, add a little water to make it more sauce like.
5. Meanwhile, in a separate pan, preheat the pan on medium-high heat for 30-60 seconds until it is nice and hot. Drizzle in 1-2 tablespoons of olive oil and add the shrimp. Sear it for 1 minutes, give it a stir, and let cook until cooked through.
6. Taste the sauce as it cooks, and add salt, pepper, juice of the other half of the lemon, and more sriracha if needed (and if you like it spicy!). Stir in sliced onions and bell peppers and cook for 1-2 more minutes, while keeping them al dente.
7. Stir the sauce, turn off the heat, and shrimp and parsley. Stir. Serve hot over pasta, rice or your favorite grain with green onions on top as garnish. Eat hot!