Inspired by my Mimi's FAMOUS Mac N' Cheese, known and always devoured by my family and friends, this is a slightly healthier, lighter option. Gluten-free (thanks to Mary's Gone Crackers), cow's milk-free, butter-free, and truly totally delicious, I'd recommend this recipe to anyone!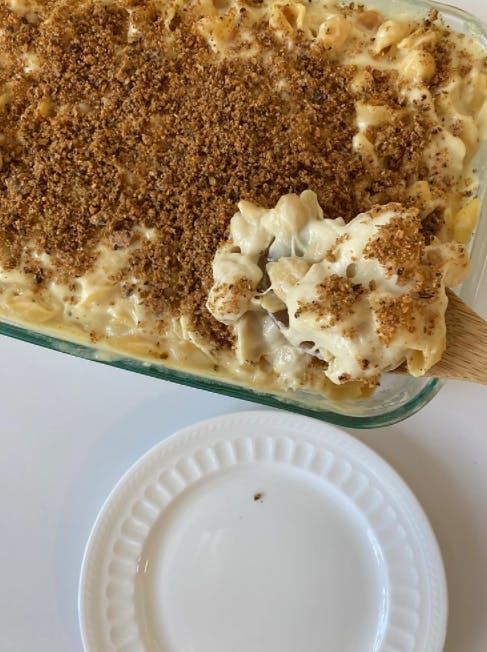 This mac n' cheese is DELUXE. It is ultra creamy — made with a simple roux — and has a beautiful crunch on the top from these seedy herby crackers.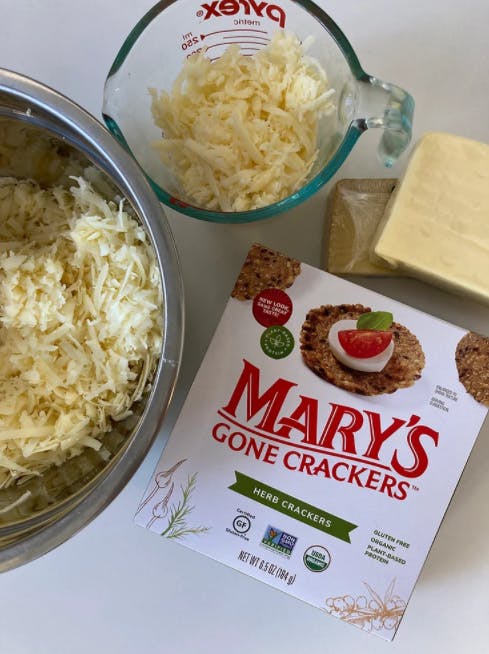 To make, simply grate your favorite sharp, cheddar cheese. Or, another favorite melty cheese, like an aged Gruyère (like Comté).
Then, heat up a pot and stir oil + gluten-free flour together until they start to smell nutty and turn slightly brown. Whisk in milk, shredded cheese and a few easy extra flavors for an UMAMI WOW effect!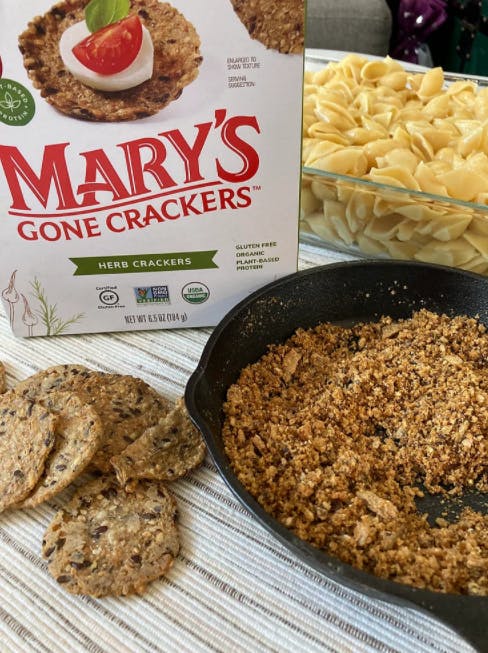 Pulse the crackers in the food processor to turn them into breadcrumbs, and brown them in a pan with a little bit of a high-quality olive oil.
Finally, boil the pasta like normal, mix it with the cheese, and bake it with the crumbs on top. Voila! Unbeatable!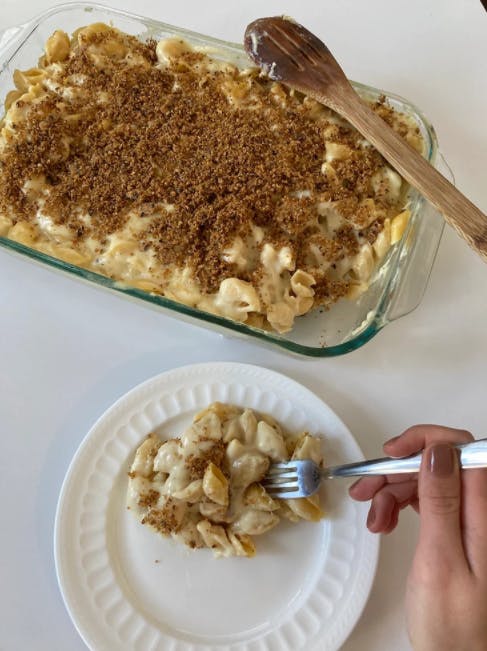 THE RECIPE:
Mimi's Homemade Mac N' Cheese
(Gluten-Free)
"(Sort-of) Follow-the Rules Mac N' Cheese"
Yield: 8 servings
Noodles
•24 oz gluten-free pasta (we recommend chickpea pasta)
•½ cup gluten-free "1 for 1" flour
•½ cup olive oil
•4 cups whole milk (plain, unsweetened almond milk is great too)
•6 cups shredded extra sharp cheddar or gruyère
•2 teaspoons coconut aminos
•1 tablespoon garlic powder
•Fine Sea salt and pepper to taste
•Dash nutmeg
Crumb Topping
•2 tablespoons olive oil
•½ cup Mary's Herb Crackers 
Preheat oven to 325 degrees F.
Bring a large pot of salted water to a boil. Boil pasta according to package directions, but slightly undercooked (al dente). Add hot pasta to a lightly olive-oiled medium to large casserole dish, and toss pasta with a drizzle of olive oil to prevent it from sticking together.
In large saucepan, heat 1/2 cup olive oil over medium heat in a heavy medium sized saucepan. Stir in the flour, and cook, stirring, for about three minutes until smooth and bubbling but not browned. Add salt and pepper to taste (a few dashes of each, or about 1/2 teaspoon), plus coconut aminos, garlic powder and nutmeg. Slowly pour in 4 cups milk, whisking until smooth as you pour. Heat to a simmer on medium-low heat until thickened, about 5-10 minutes. Stir in cheese until melted. Remove from heat. Add more milk if sauce is too thick.
In a food processor, pulse Mary's Herb Crackers until fine, about the size of bread crumbs.
Heat olive oil for 1 minute over medium heat in a small pan. Add in crackers crumbs, stirring constantly to toast them slightly with the oil, about 3-5 minutes. Pour crumbs over the top of the mac and cheese.
Bake for 14-15 minutes until cheese sauce is slightly bubbling on the sides. Serve hot!
Let us know how it turns out! Feel free to tag us on Instagram, Facebook and Twitter @anjalee.co